Romsey Van Hire operates a reliable fleet of Ford Transit vans. The 'Transit' as it is commonly known has been labelled the "backbone of Britain" and is a dependable workhorse that's comfortable and easy to drive.

LOCAL OR FAR AWAY - WE HAVE THE VAN YOU NEED
At Romsey Van Hire We have four types of van:
SHORT WHEEL BASE [SWB] LOW ROOF & MEDIUM ROOF

Our smallest van but one with plenty of room!
Recommended for: Everything from flat packs to a washing machine, furniture including larger items such as a sofa or bed, trips to the tip and moving items which will not fit in your car. Suitable for a part house or a flat clearance or a move with no tall items to carry. Approximate size (internal): SWB Length 2.28m. Width 1.72m. Height 1.37m. MWB Length 2.28m. Width 1.72m. Height 1.77m.
LONG WHEEL BASE [LWB] WITH HIGH ROOF
Has a higher roof so better for those taller items such as fridge/freezers or a wardrobe which cannot be laid down and where more capacity is required.
Recommended for Moving larger/taller items or where extra length and height are required. Also for a house move/clearance. Approximate size (internal): Length 3.2m. Width 1.72m. Height 1.85m
LUTON BOX VAN [XLWB] WITH TAIL LIFT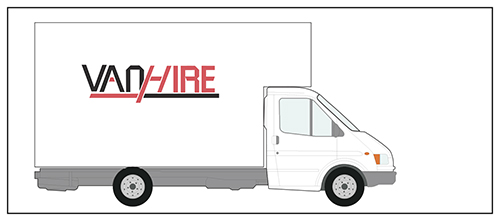 A larger van with a tail lift for easier loading,
Recommended for: House moves and transporting bigger items with the added benefit of the tail lift.
Approximate size (internal): Length 4.01m. Width 2.05m. Height 2.18m.
All our vans are suitable for both local, and long distance carrying. We will discuss with you your exact requirements because all vans are subject to maximum weight limits which include the driver, passengers, fuel and load. We can then recommend the most suitable van at the best price that's perfect for what you are carrying and the distance you will be covering.
LOW COST

LONG DISTANCE




LOCAL

INSURANCE INCLUDED